A bee. A key. A sword. Several months ago, those images began filling my Twitter and Instagram feeds. I knew what they heralded and was practically beside myself with each new post and peek. I had been waiting for eight years for a new world from Erin Morgenstern to step sideways into, ever since I was so exquisitely enthralled, ensorcelled, and enraptured by The Night Circus. I have never recommended or passed on a book as often as I have that one. And The Starless Sea was no disappointment. A story molded and folded, fitted and tide-locked with other the stories within it. Stories that mix and mingle and connect and rend. When I first received this beautiful book, it took me several weeks to read even 70 pages. That was agony for me. When all I wanted to do was to dive in and devour it, I was being forced to savor it. I found it creeping into my days, my dreams, my daily drive (thank you, monthly Audible credit!), and even my work. I used it as an example entry for my 8th-grade students' silent reading journals.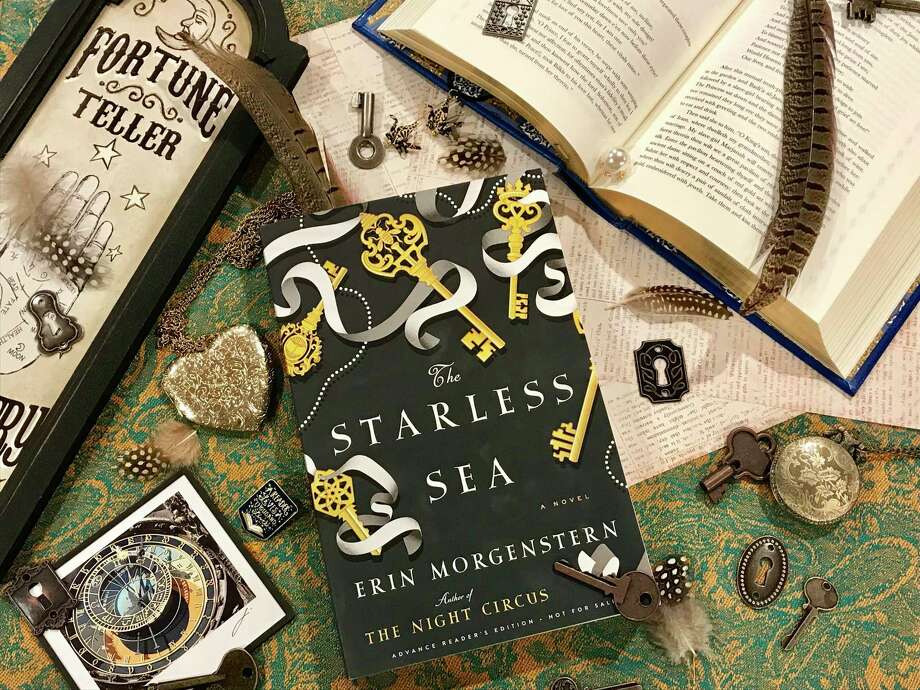 Needless to say, I tumbled into a world of keys and swords and books, of Doors and bees and stories. I will not claim to understand everything…yet. It will no doubt take several readings and listenings to unravel all the paths and side-quests and cues within the gorgeous labyrinth held between these gold-embossed black covers. There are lines that still linger in my mind, lines that I have quoted and enigmatically posted. Lines that wrap themselves around my wrists and elbows like golden ribbons, words dangling from my fingertips like keys and glowing in my chest like embers. Morgenstern has not disappointed in any sense; once again her world-weaving has carried me off over golden waves.
My fictional world is, as it seems, full of books and Doors and stories right now. I am chasing after books come alive in A.J. Hackwith's The Library of the Unwritten and running headlong through ten-thousand Doors in the most gorgeous epic by Alix E. Harrow (The Ten Thousand Doors of January). To my delight, I am led and shepherded everywhere I look in these tales by characters of color. I am also seeing bits and pieces of myself spread out among them. A hero with eyesight as bad as my own. A Librarian with locs and a fierceness to match the angelic host themselves. A girl with mocha skin and a bronze-furred dog. Her friend with a body the color of coffee who would be perfect standing side by side with the Librarian in battle. Zachariah, Claire, January, Bad, Jane. I marvel at finding myself surrounded by these characters, taken by the hands and led–sometimes thrown–through their adventures, failures, discoveries, and downfalls. It is intense. It is emotional. It is fascinating. It is painful. And every second is worth it.
This is my storied January indeed, and I am loving it!