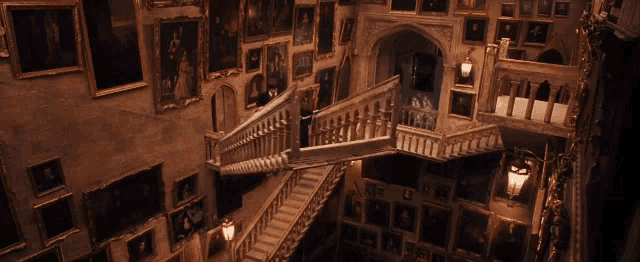 One of the many amazing things that Harry Potter discovers upon his first night at Hogwarts is that the staircases move! Yes, indeed, the staircases throughout Hogwarts School of Witchcraft and Wizardry move seemingly of their own accord (a trait which appears to have been built into the very walls of that castle). This is stated to be quite disconcerting, not to mention disruptive to important plans, such as getting to class on time. How on earth is one supposed to climb a staircase that is moving?
That is where I am in this moment, Dear Readers: trying to climb a staircase that is constantly moving and thus changing my direction and destination. I do not doubt that your current state of life is much the same. Change is always weird for me but, right now, for this mom and teacher, the shift is downright unsteadying. It is unsettling when a dear one can ask me, "How is school planning going?" twice in the same hour and the answer can be different from one end of the hour to the other, because something somewhere has changed in that short space of time. Something that upsets the whole balance of everything I have hitherto planned or worked on. But this is the new reality of our world, isn't it? A world of moving staircases, split-second changes, and necessary flexibility, adaptation, and improvisation. As a teacher, my experience with change is constant and never-ending; however, that does not in any way make it an easy thing. Nor, do I realize, is it easy for anyone else, and, I know, Dear Reader, that nothing is easy for you right now either.
You are navigating your own moving staircases of whether or not to send your child back to in-person classes or figuring out childcare or giving heartfelt reassurances if the decision has been taken out of your hands by circumstance. Believe me, I get you. I feel you, Dear Reader. All the staircases are moving on us, and we are being forced to hold on and figure out our way from our new starting point. But it will be okay.
No, it's definitely not okay right now, I agree. We are not okay right now, absolutely. But it will be okay. We keep heroing on, you and me and everyone else out there. We hold on and hold fast as the staircase moves and then forge a way forward when it stops. The path may be halting, may be very stop-and-start for a while, but we will make it. We will get through it together. Again, while we are not in the same boat or even the same particular storm in some cases, we are still in the same ocean. We are still in this together, no matter how different our circumstances or our struggles. We can still reach out and find someone who hears us, feels us, and understands us and our struggles. We have each other. We are together, no matter how separate we may be.
I am not okay right now. I am unsteady; I am nervous; I am unsure as to what to do next, as the path changes almost daily. But I will keep moving forward. You may not be okay right now, Dear Reader, and that is totally valid. You are not alone in this. But it will be okay. We will be okay. Just as Harry had Ron and Hermione right there with him on the moving staircases of his life, so too will we keep moving forward, Dear Readers. Together.